Article
Customer journey with Voltron Studio
At Voltron Studio we know that every customer is different and we need to be flexible enough to fit around your needs.
The diagram below describes (at a high level) a typical journey we take with our customers.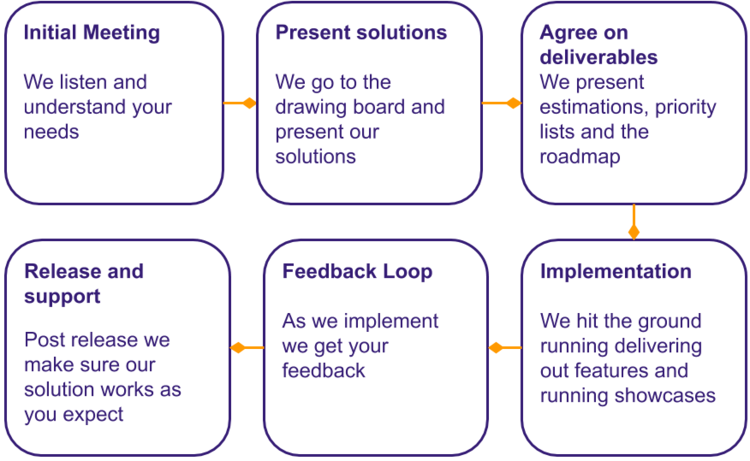 Initial Meeting
We will listen to the issues you're currently facing and what possible solutions you have in mind. We don't make assumptions and certainly don't jump to conclusions.
We feel it's necessary to fully understand the pain points from your point of view before proposing any solution. At Voltron Studio we believe anybody can come up with solutions but it takes real skill and patience to understand the root cause of a problem.
Proposals and solutions
We hit the whiteboard with ideas and begin to collaborate. Various solutions are proposed depending on complexity and the scale of your problem. Included in each solution will be a high level implementation method, budget costs, resourcing, and scope.
There is no fine print on implementation and what the final result is going to look like. The way we work is upfront and transparent. We don't set unrealistic expectations or present Micky Mouse fluff. What you see is what you get.
Agree on deliverables
There are 3 key pieces of information we present during this phrase. A prioritised list of features, estimates of work, and a clear roadmap to release. 
We give it to you straight and ensure there is an ample buffer time allocated. We're an agile team, so we're able to quickly adapt to changes and unforeseen scope creep.  To ensure everyone is on the same page, you'll sign off on exactly what software deliverables we intend on completing.
Implementation
Our team will hit the ground running setting up the infrastructure, gathering designs, writing code, and ensuring tests have passed. We deliver work with agility and efficiency. We guarantee that we deliver business value on a daily basis.
Voltron team members will present a fortnightly showcase on new features, major changes, and development enhancements we've made throughout the sprint. We give you full access to our digital task boards for you to view at your own pace.
Feedback loop
The iteration cycle is to ensure you are satisfied with the end result. Your feedback helps guide our requirements and engineering team to push the right solution for you, not our solution.
We value your feedback by creating action items out of them. Voltron Studio don't believe in echo chambers and certainly don't live by assumptions. Though we are naturally strong problems solvers, there are always good reasons to go directly to you for feedback and input.
We understand that every implementation is going to be different, that's why we invest heavily in pre-planning the release phase. Running pre-production releases during the implementation phase gives ample opportunity to make enhancements and changes as needed. 
Release and support
Upon the release of your brand new software, we will provide ample support to you and your staff. We don't expect you to scramble for documentation to figure how to resolve issues on your own. 
We will provide you with documentation, training workshops and upskilling as part of the development process.
Ensuring the release is a success is one thing, but Voltron Studio doesn't consider it a success until we know for sure that the product is scaling and performing to your expectations. We provide on demand support for every client we deliver software to.
Conclusion
Every client has their own set of problems. The solution to each problem may be different but the execution and delivery are constant. Execute efficiently with a focus on quality. We stress on our guarantee when it comes to providing business value from the first meeting with us. Everything we do is derived from our passion and dedication to solving your problems.
Related tags
Voltron Studio
Process
Customer Flow
Consulting Workflow
Written by
Dennis Tang
Co-Founder & Director at Voltron Studio
Sign up for our newsletter.
Be notified when we share new ideas and updates. Stay up-to-date on news and tips in web technologies, healthcare software, and radiology!
© 2021 Voltron Studio Pty Ltd, ABN 72 645 265 103